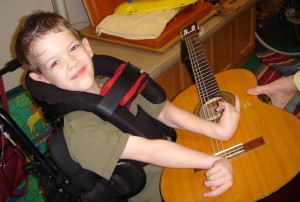 Harmony Music Therapy, LLC strives to provide a unique and compassionate place for GROWTH for both the client and the caregiver. Our high quality music therapy services provide clients the opportunity to reach their potential and make improvements one day at a time. We serve children, adolescents, and adults with disabilities & mental health impairments, as well as those in neurologic rehabilitation and hospice care in Salt Lake, Utah, and Davis Counties.
Music Therapy treatment consists of the following steps:
Assessment
Formulating goals and objectives with the parents and/or client
Using music functionally to help achieve those goals
Working to generalize the skills gained to the individual's typical environment.
Treatment is usually in the form of weekly sessions lasting anywhere from 30-50 minutes depending on the needs of the client.
Parents, clients, facilities, and service providers who utilize Harmony Music Therapy Services express excitement about the level of interaction and progress they see during and after sessions. Music is an enticing and motivating tool, and having a trained therapist use that tool to help individuals meet developmental milestones yields powerful outcomes.
A board-certified music therapist provides the aforementioned services, and adheres to the standards of clinical practice set forth by the American Music Therapy Association (AMTA). Harmony Music Therapy is run by a Masters Level Neurologic Music Therapist who has additional understanding of brain processes and how to use music to optimize brain function.
 Testimonials
"He is learning to express himself better. We have loved generating music into therapy sessions. He is so much more engaged when there is music involved." –Brooke, Mother of a boy with ADHD
"As a result of music therapy, my son is now more outgoing and willing to participate. He has improved a lot."
–Katie, Mother of a child with developmental delays
"We love going to Ms. Jaycie! My son took to music therapy immediately. I have noticed great improvements in his language, eye contact, and social skills. Ms. Jaycie has an amazing connection with the kids and really works to achieve their individual goals within a fun and safe group setting. I really appreciate that Ms. Jaycie helps create goals and gives me feedback on what I can do at home to help. The best part about music therapy is that the kids don't even know they are working…they are just having fun!"
–Amanda, mother of a 4 year old with Autism
"Our experience with music therapy has been extremely positive. We witnessed tremendous improvement in our son's ability to attend to a task, engage in proper social interactions, and overall interest in music. Music therapy has played a significant and enduring role in our son's treatment plan."
–Diana, Mother of a 7 year old with Asperger's