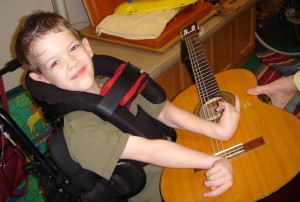 Harmony Music Therapy, LLC  strives to improve quality of life and everyday functioning for clients by providing high quality and research-based music therapy services to children, adolescents, and adults with disabilities and mental health impairments. These services are available in Salt Lake, Utah, and Davis Counties. Music Therapy treatment consists of the following steps:
Assessment
Formulating goals and objectives with the parents and/or client
Using music functionally to help achieve those goals
Working to generalize the skills gained to the individual's typical environment.
Treatment is usually in the form of weekly sessions lasting anywhere from 30-50 minutes depending on the needs and ability level of the client.
Parents, clients, facilities, and service providers who utilize Harmony Music Therapy Services express excitement about the level of interaction and progress they see during and after sessions. Music is an enticing and motivating tool, and having a trained therapist use that tool to help individuals meet developmental milestones yields powerful outcomes.
A board-certified music therapist provides the aforementioned services, and adheres to the standards of clinical practice set forth by the American Music Therapy Association (AMTA). Harmony Music Therapy is run by a Masters Level Neurologic Music Therapist who has the additional understanding of brain processes and how to use music to optimize brain function.